We have designed our test panels to be quick, easy, and painless for patients to collect a sample and receive useful results that will inform their medical care. Use this page as a resource to get familiar with what is included in your test kit and to collect your specimen for the most accurate test results.
Please contact your provider with specific questions about your medical care. DiagnosTechs Client & Technical Services staff are also available for general test and collection questions.
Reminder For All Tests
Do not discard the fluid in the stool collection vials.
Be sure to write your name and date of birth on each vial and on the front of the requisition form.
Refrigerate all samples until mailing (with the exception of PeriM, ePeriM, FHP & eFHP samples which should be frozen).
Please do not freeze stool collections.
Refer to shipping instructions included with the test kit.
---
Test Kit Contents
Kit box contents will vary depending on the test ordered. The form and number of vials may differ from the picture.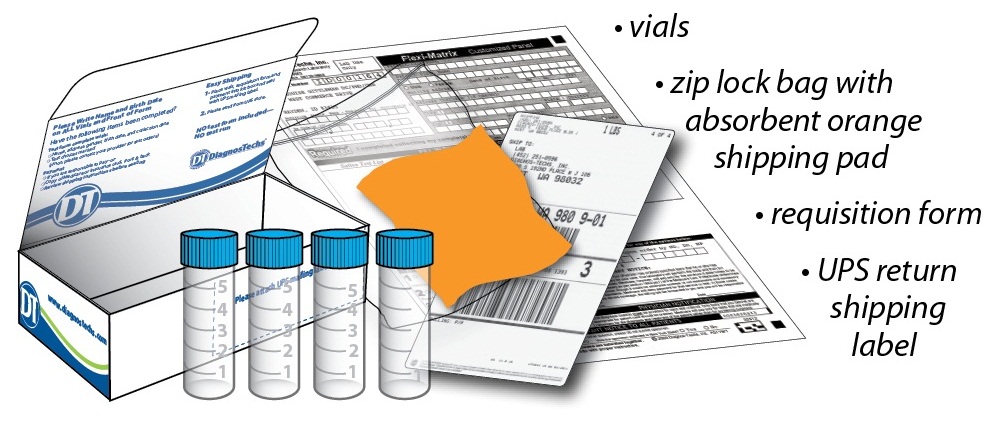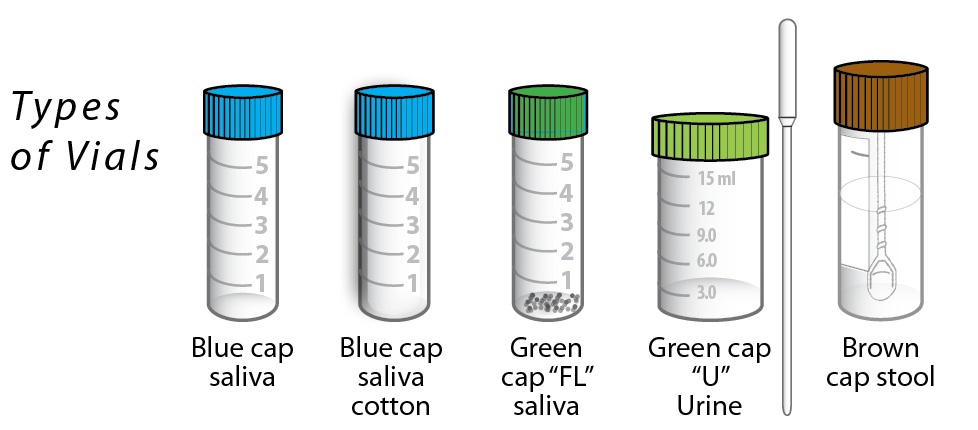 Prior to Saliva Collection
60 minutes before each collection avoid:
Smoking
Brushing or flossing your teeth
Using mouthwash
Eating or drinking anything except water
3-5 minutes before each collection:
Rinse mouth thoroughly with cold water for approximately 30 seconds.
Wash hands prior to handling cotton roll or vials.
Saliva Collection Procedure
If collecting directly into vial (H vial or F/L vial):
Collect liquid saliva directly into the vial
Fill to the fifth line from the bottom excluding foam (approximately 3/4 full).
If too much foam is present to collect to the fifth line of the vial, cap vial tightly and place in the freezer for 2-3 minutes. When removing the vial from the freezer, tap it on a solid surface such as a tabletop or counter. This should settle the foam so you can continue to collect saliva.
Recap the vial tightly, place in plastic zippered storage bag with the absorbent orange shipping pad and refrigerate. Ship all samples together within 3 days of collection.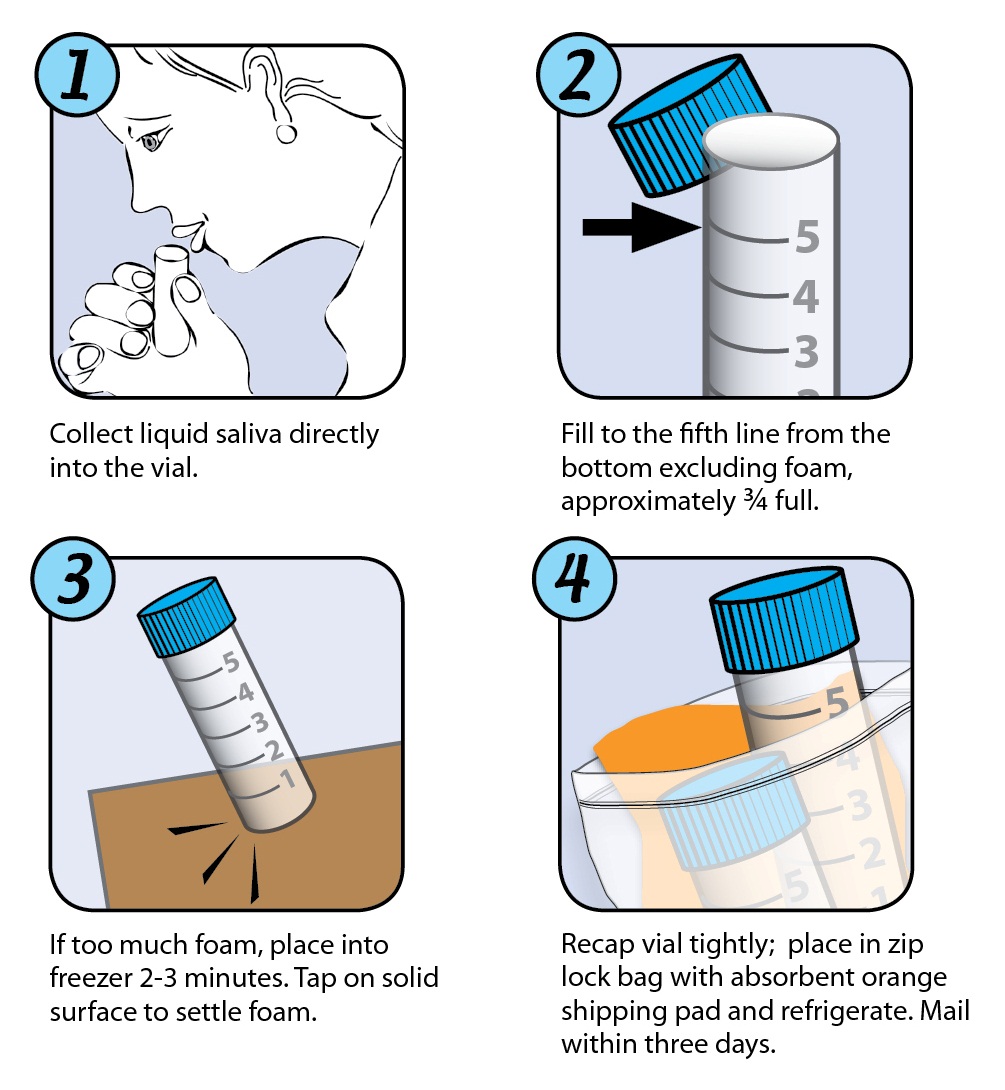 If collecting on supplied cotton:
Remove cotton from vial and place it under tongue until fully saturated and your mouth refills with saliva. This may take up to 20 minutes. Do not chew or suck on the cotton roll.
Once fully saturated, return cotton to vial, cap vial tightly and place in plastic zippered storage bag with absorbent orange shipping pad. Refrigerate and ship all samples together within 3 days of collection.
If you experience difficulty saturating the cotton roll, you may discard it and collect saliva into the vial directly.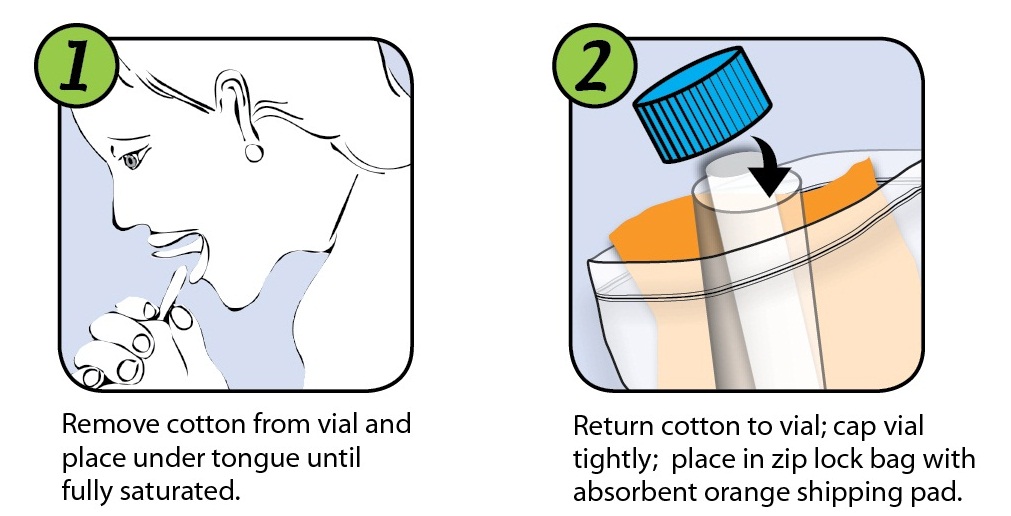 Stool Collection Procedure
Collect stool on plastic wrap, then transfer enough to raise liquid in vial to the fill line.
Use spoon to break up clumps and stir thoroughly.
Remove spoon from the lid and discard.
Cap vial tightly and shake sample vigorously for one minute. Refrigerate vial.
Do not discard the fluid that is in the vial.
Be sure to follow all detailed instructions included in your kit.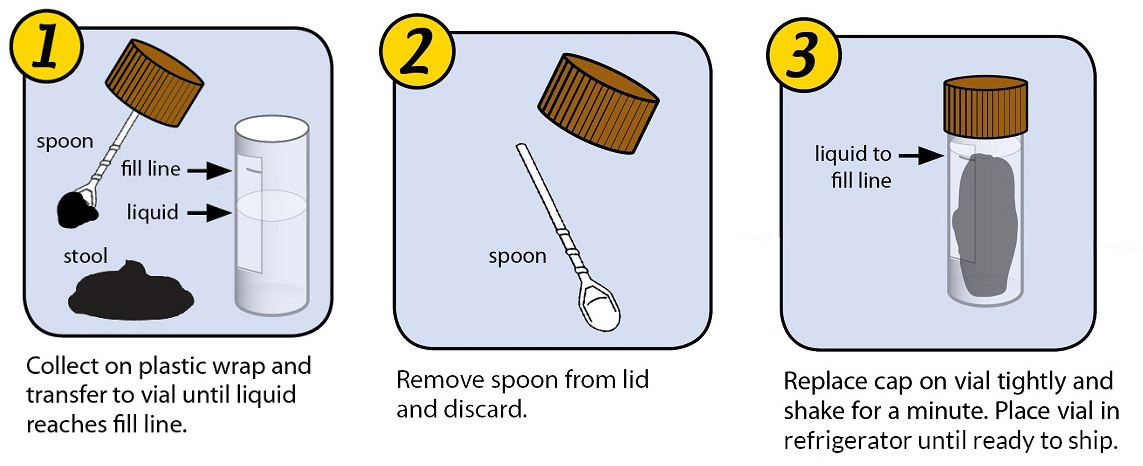 Urine Collection Procedure
Collect first or second morning urine void.
Collect the urine in any clean container.
Using the provided disposable dropper, remove a sufficient amount of urine to fill the "U" vial to the 15mL line. Do not exceed line.
Discard remaining urine and dropper.
Cap vial, place in plastic zippered storage bag and refrigerate. Ship within three days of collection.
After Collection
REFRIGERATE each sample and ship all samples together the next day (preferred) or within 3 days of collection. (If collecting for PeriM, ePeriM, FHP or eFHP, you should freeze saliva samples until all collections are complete.)
Prior to shipping, double-check that your name and date of birth are printed on each vial and the front of the test requisition form.
Follow the shipping instructions included with your kit.
After ALL samples are collected, return them together with the completed test requisition form.